This is one of my favorite months. For a number of reasons.

March kicked off with a
Scavenger Hunt
hosted by `
shell4art
and the Artist Relations folks!
I spent a good chunk of time hanging out in
#CommunityProjects
this weekend working on that. Took incredibly long to get through all of the questions... but I learned a lot! Many thanks to the people of #Apophysis, #dAmnLit, #NewAnimeLover (namely ~
Ashlings
. Haha!), and #dAcollab for all of their help! And to the other #CommunityProjects people --- for keeping it interesting.

I won a 1-month subscription from `
shell4art
on one of her mini-contests, though! Plus she offered me one of her Prints for completing the Hunt! How cool is that?
Go check out the
Project Educate: Week 1
article! It focuses on Literature. And keep an eye on `
shell4art
's other news articles and journal entries. More projects and fun to come!
Look, I made stamps. Woo! 8D
I've been awake more than usual -- which is saying something. Last week was a semi-chaotic string of events leading up to a nice little piece of organized chaos known as "The International Fair."
I was the regional chairperson for the Pacific Islands (aka Polynesia), so I had the wonderful task of creating a fair booth display, making food for 800 people (lolz, and here's a little secret for ya: I'd never made any of those recipes before

So I was just as blind as the volunteers), and scrounging up people to do performance stuff.

Hah, but aside from the fact that I was flying solo for most of this, I had it easy -- because I did everything in my power to
make it
easy on myself.

"Work Smarter, Not Harder."

I've managed to do the impossible, though: I think I'm sick.

Hasn't happened in... wow, I can't remember how many years. I don't get sick. Therefore, I have no idea how to *be* sick.

Are you supposed to drink tea? Eat vegetables? I don't think I own a thermometer or any sort of aspirin/medicine, so don't bother suggesting those.

Ah, it's nothing big though. An annoying cough is the worst of it. Argh, I just want to stop coughing...

How does one stop coughing??
And sleep.

I want to sleep.
#
AoAClub
Check out #
AoAClub
! They've got a Scavenger Hunt-esque project going on (just in case you missed the one mentioned earlier

). With amazing prizes!
Also, check my sidebar for other Contest links. I post things there from time to time.
I decided I should start sharing those DD Suggestions I make, since they're all awesome people/pieces.

I've suggested the following person/piece for a Daily Deviation, to ~DailyDeviants, or both. I've included the original text of the Note I sent as well.
Unofficial Welcome Pack
by `
Little-Vampire
The deviation was created by `Little-Vampire in partnership with a bunch of others. It's a guide through deviantART in English, Italian, and Portuguese. Personally, I find it incredibly thoughtful of them to put something like this together. And it's fun to go through!



So yeah. I thought it'd make a great DD.




Sent To: `bleedsopretty
Date: Sep 24, 2007, 1:55:50 PM

</sub>

Daily Deviation, 2007-09-25
Featured by `maxwell-heza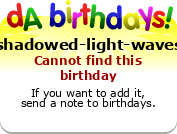 Whoo hoo! You can make one of these, too,
at [ *birthdays ]!
I'm trying to decide on something fun to do.

Any suggestions?
Journal Layout by: